Scottsdale Flat Fee MLS Listing Options
Scottsdale Flat Fee MLS Listing
Listing your home on the Realtors Multiple Listing Service (MLS) will notify all brokers and agents that your home is for sale. Over 80% of buyers are represented by a realty company and you must connect with them to get the maximum number of offers! The best way to get connected with over 80% of potential buyers is with a Scottsdale flat fee mls listing by owner.
The fact is that most seller's agents do not look for buyers! They simply LIST ON MLS and then speak with the buyer's agents who find the property listed there. You can easily do the exact same thing with a Scottsdale flat fee mls listing and not owe the seller's agent 3% of your sale price, saving you thousands of dollars! Flat Fee MLS Listing Scottsdale is the best investment in the country.
A simple up front investment to get your property listed on your local MLS is all it takes. We are a Scottsdale Flat Fee MLS listing service and our pricing is real. Get the exposure you need to sell your home without paying full commissions by signing up for a Scottsdale Flat Fee MLS listing today.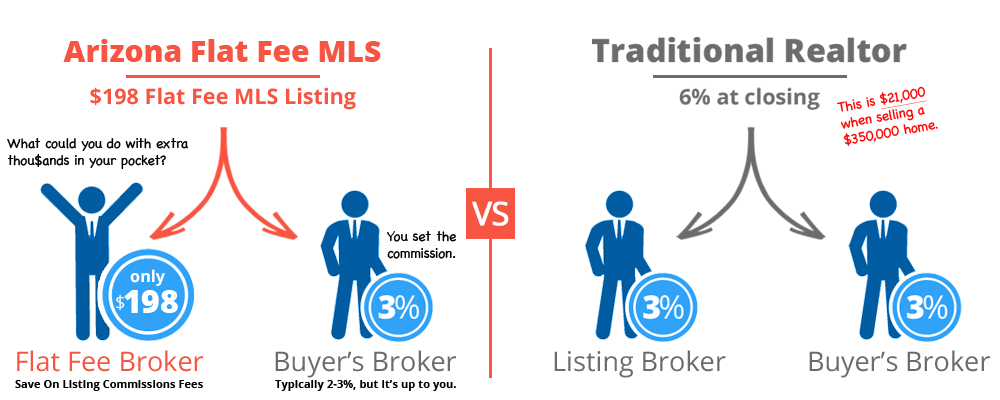 Selling a Home Has Never Been So Simple
6% commission IS A THING OF THE PAST! Scottsdale flat fee mls listing is the future. Put the local MLS and Realtor.com to work for you by leveraging The Power of the Internet to reach thousands and thousands of buyers on a daily basis! This is Revolutionizing the real estate industry.
For a small Flat Fee your property will be listed in your local MLS and on Realtor.com saving you thousands of dollars in high commission fees. It's amazing!
You get the exact same MLS and Realtor.com exposure that you would get by paying a broker full commission. You retain full control over the sale of your property while SAVING you and your Family all the money! Give us a try…You have nothing to lose.
It's your equity.
See what your savings can do for you*
* Assumes 2.5% buyers commission, saving could be substantially greater with no buyers commission.